OPTICS
I have four main optics with very different focal lenghts. This allows me to cover different types of objects, from small planetary nebulae or galaxies, to complete constellations.
INTES MICRO M615
It is a Maksutov type telescope with a high quality Russian optics. Its mechanical quality, however, is not as good as the optics. The dovetail is not solid enough and flexes a lot, the focuser has a certain backlash and some screws have rusted over time. Even so all the elements fulfill their functions and I consider it a purchase that I will never regret.
It is a telescope designed for observation and planetary imaging, but I also use it for deep sky photography, assuming, of course, its limitations, since it is a slow telescope (f/15) and long exposure times are needed to get enough signal, and also the autoguiding is very delicate due to its 2280mm focal length. On the other hand it has a perfectly flat field, little vignetting and any kind of optical aberration, at least as far as my eye can see.
OPTICAL CHARACTERISTICS
Type
Maksutov – Cassegrain Reflector
Focal
2280mm
Aperture
152mm
Secondary Diameter
47mm
Obstruction
28%
Light Gathering Power
164.02cm²
OPTICAL QUALITY
Transmission
90%
P-V
λ/6
CKO (RMS)
0.041
PHOTOGRAPHIC CHARACTERISTICS
Luminosity
f/15
Resolving Power
0.76 «
Photographic Scale
1.51 arcmin/mm
Photographic Diameter
25mm
Photographic FOV
1º03′
PHYSICAL CHARACTERISTICS
Lenght
440mm
Diameter
210mm
Weight
4.9kg
BORG 101ED
This is an apochromatic refractor built by Borg and distributed by Hutech.
The telescopes of this brand have a very curious mechanical configuration, since they are based on a totally modular design, so that the client can customize the telescope to his needs, buying the different components (lenses, bodies, focusers, etc …) separately.
In my case I chose a double configuration. I have a 101ED lens with a native f/6.4 to which I add a specific reducer, converting the telescope into a f/4. When we set this telescope to f/4, the support tube is shortened, and the reducer engages inside the focuser. This makes the length of the tube very short, and lightweight.
OPTICAL CHARACTERISTICS
Type
Apochromatic Refractor
Focal
410mm
Aperture
101mm
Light Gathering Power
80cm²
OPTICAL QUALITY
Transmission
97%
PHOTOGRAPHIC CHARACTERISTICS
Luminosity
f/4
Resolving Power
1.14 «
Photographic Scale
8.26 arcmin/mm
Photographic Diameter
40mm
PHYSICAL CHARACTERISTICS
Lenght
512mm
Diameter
113mm
Weight
2.4kg
In my opinion, this telescope is a worthy alternative to the famous Takahashi FSQ-106 as far as value for money is concerned.
SIGMA APO 70-300mm f/3.5-5.6
On paper, this zoom lens should be completely discarded for quality astrophotography. However, it can become an option if the object to be photographed does not fit us with any other objective. I have used it a few times, because as I say, it does not have the level that I consider minimum for astrophotography. It suffers from coma, some chromatic aberration even considering itself apochromatic, but closing the diaphragm enough and working the processing these defects can be mitigated.
CANON EF 50mm f/1.4 USM
I am still in the testing phase with this objective, but it is my bet to take pictures of ultra wide and ultra deep fields. It has an extreme speed, which will surely cause problems with the filters (image shift effect), light gradients, vignettes … but I have expectations of being able to solve all these problems and be able to use it in astrophotography.
It is an objective that in conventional photography has surprised me pleasantly for its sharpness, fast focus (nothing useful in this field) and image quality in general, especially in relation to its price.
OPTICAL CHARACTERISTICS
Type
Achromatic Refractor
Focal
50mm
Aperture
35.5mm
Light Gathering Power
10cm²
OPTICAL QUALITY
Transmission
?%
PHOTOGRAPHIC CHARACTERISTICS
Luminosity
f/1.4
Resolving Power
3.24 «
Photographic Scale
68.76 arcmin/mm
Photographic Diameter
?mm
PHYSICAL CHARACTERISTICS
Lenght
50mm
Diameter
74mm
Weight
290g
CAMERAS
QHY163M + QHYCFW2-M US + OPTOLONG HSO-LRGB
One of the improvements that I considered necessary after my return to this hobby has been the acquisition of a better camera, because until now I worked with a DSLR, with the limitations that it has. So, after evaluating several options, I decided to evolve towards a monochrome astronomical camera.
The camera is a QHY163M, monochrome and refrigerated, with a sensor size of 17x13mm. It is characterized by a very low reading noise, 1.3e with the factory parameters, as well as very little thermal noise due to its efficient cooling, which allows a thermal jump of up to -37.5 °C. On the other hand it has a pixel size of 3.8μm, which achieves a resolution with the Borg at f/4 of 1.9 «/ pixel.
As these cameras do not make sense by their own, I have acquired a motorized filter holder wheel QHYCFW2M-US 7 positions, in which I installed a set of Optolong HSO 6nm filters to work in narrow band, and another set LRGB of the same brand, for broadband photography.
The filter wheel is the US model (UltraSlim) and combined with a Cyclops Optics C-Blade adapter achieves 55mm of backfocus, the same as the Canon DSLR. That means that I can use my old adapters maintaining the optimal distance to the sensor.
SENSOR CHARACTERISTICS
Type
CMOS 12bit
Model
Panasonic MN34230PL
Sensor Size (AnxAl)
17.7×13.3mm
Diagonal Lenght
22.1mm
Resolution
4656×3522
Total Resolution
16Mpx
Pixel Size
3.8um
ELECTRONIC CHARACTERISTICS
(Factory Parameters: GAIN=174 / OFFSET=77)
Gain
0.624e/ADU
Readout Noise
1.3e
Thermal Noise
0.002e/s
Fullwell Capacity
2573e
FILTERWHEEL CHARACTERISTICS
Positions
7
Filter Diameter
36mm
Max Filter Thickness
4.5mm
PHYSICAL CHARACTERISTICS
Dimensions
165x165x130mm
Weight
1.2kg aprox
QHY5R-II
This is the camera that I use for autoguiding. It is a small and simple color CMOS camera. It is always recommended to use a monochrome camera to guide, but I got it so cheap (€ 70) that I thought it was worth trying. For now the results seem satisfactory because I can guide with the guide telescope with stars of up to 7th magnitude without problems, which I think is enough for the moment.
CANON 350D (IR Mod)
This is the camera that I have used from 2004 to 2010 and although I imagine that I will stop using it, I am reluctant to eliminate it from my official team because it has given me great results. It has a fairly large sensor, APS format (14.8x22mm) and I removed the IR filter to improve its response in Hα. However, as it is not refrigerated, the thermal noise is very high, and this becomes a problem in summer.
Another problem is that a major issue occurred at the end of 2010. It hangs when connected to the computer by USB. That menas that I have lost the ability to have a computer-assisted control and taking images so I have to do with an external timer connected to the trigger socket. In addition, the download of images must be done by extracting the card and connecting it to an external card reader.
MOUNT
SKYWATCHER HEQ5 (Rowan Belt Mod)
This is a German Equatorial Mount, a Skywatcher HEQ5 SynScan of 2004, currently discontinued and replaced by the HEQ5 Pro. It is a mount with excellent performance in astrophotography if a light equipment is loaded.
MECHANICAL CHARACTERISTICS
Transmission
Worm + Worm gear
Worm Gear Teeth
135
Worm Period
638.2s
Periodic Error
±15″
Payload Capacity
14Kg
ELECTRONIC CHARACTERISTICS
Motor
Stepper Motor
Motor Resolution
0.144″/step
Pointing Accuracy
1arcmin (aprox)
Max Slew Rate
3.4º/s
Autoguiding Rate
x0.25-x1 Sideral
Power
11-15V / 2A
Data Interfaces
RJ-45 + RJ11 (ST-4)
PHYSICAL CHARACTERISTICS
Head Weight
10Kg
Counterweight Weight
5Kg (x2)
Tripod Weight
4Kg
Head Height
35cm
Tripod Height
97-121cm
It has a handcontrol for pointing, but for atrophotography it is recommended to control it by computer through the EQ Direct interface (acquired from Astro Instein) and the EQMOD driver. It also has a self-guided ST-4 port, although I do not use it because I prefer self-guided pulses also incorporated in EQMOD.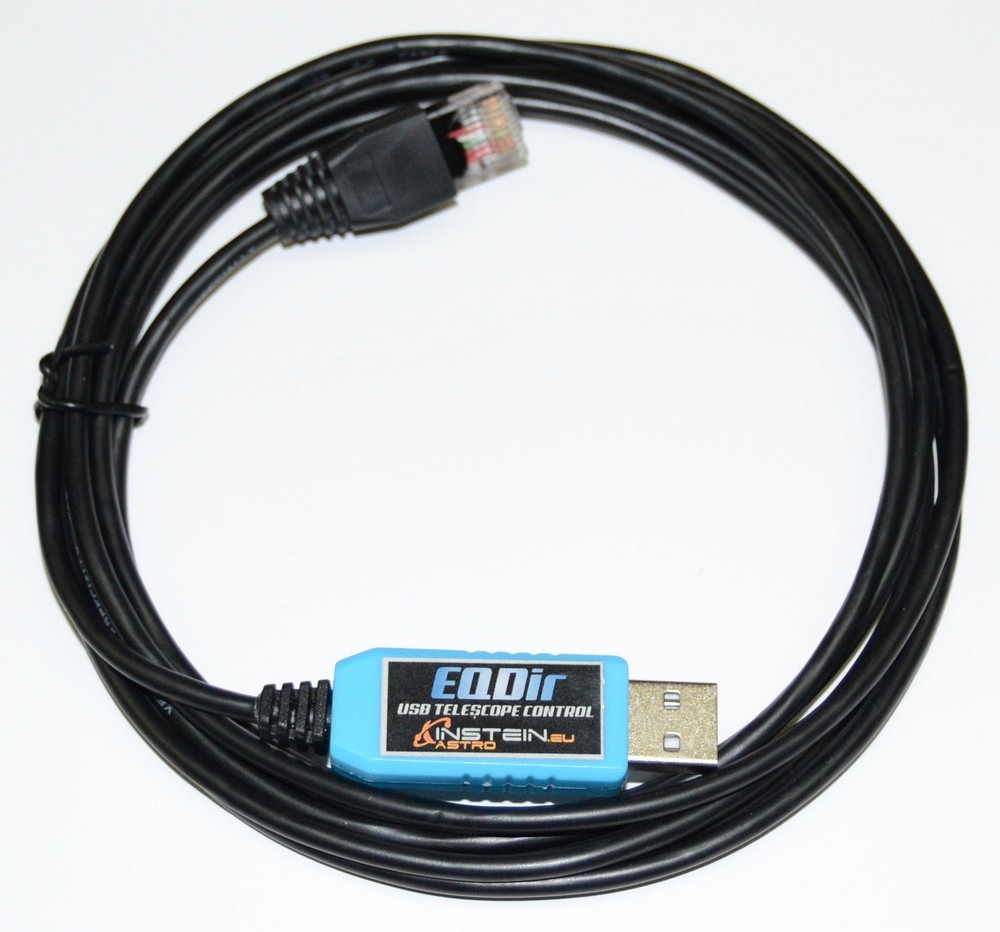 I have disassembled, cleaned, re-greased and reset 3 times, the last in 2017, when I also took to change all bearings.
In 2018 I decided to install the improvement consisting in replacing the secondary transmission gears with the Rowan Astronomy belt kit.